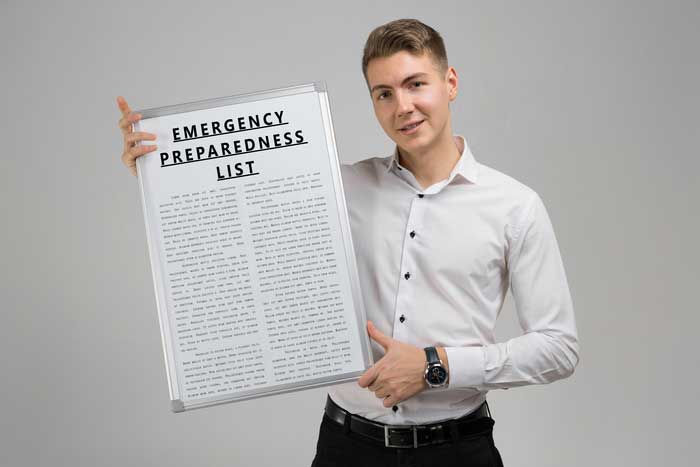 If you're a residential investment property owner, you probably have plans in place for just about every contingency involving your investment – market swings, new competition, the boom-and-bust cycle, natural disasters and emergencies …
Wait, you haven't created an emergency preparedness plan? Remember the adage, "Hope for the best, but plan for the worst." That's exactly what an emergency preparedness plan does – protects your investment, but more importantly, protects the lives and welfare of the residents who make your investment what it is.
So, what should go into your emergency plan? We have 10 steps to follow to get started.
1. Maintain an emergency contact list.
This list should include the name, unit number, telephone number, and email address for every resident, as well as emergency contact information for each and whether they have pets. Be sure to include illume Property Management on your list, as well as 9-1-1 and direct lines to fire, police, and local hospitals, insurance agents, utility companies, and key vendors such as plumbers and electricians.
2. Create an Emergency Plan Team.
This team should include residents willing to jump into action when an emergency hits. We recommend that team members meet at least 2-3 prescheduled times each year to ensure evacuation plans stay current and identify ways to improve emergency preparedness among residents. Having residents assisting with planning also frees you and illume staff to perform other critical duties.
3. Identify emergency equipment and escape routes.
Make sure you have emergency exits and firesafe stairwells properly marked, with diagrams at all exits — especially next to elevators, which will likely be disabled during an emergency to avoid residents becoming trapped. Have fire extinguishers strategically placed with easy-to-read instructions on how to use them. Identify "safe spots" such as doorways where residents should go in case of an earthquake.
4. Have an action plan in place.
Your plan would supplement the plan created by the Emergency Plan Team and provides you with a step-by-step process of what to do. For instance, if forecasters issue a high wind alert, you would have staff members secure or move indoors any garbage cans, outdoor furniture, landscaping, and other items that could blow away or cause property damage.
5. Maintain your property.
This step should go without saying, but if you properly maintain your property, fixing roof issues and cleaning debris from gutters and drains, your property stands a better chance of surviving emergency situations.
6. Communicate with residents and staff.
In emergency situations, seconds count. Being able to communicate with residents and illume Property Management staff is crucial. As your property management provider, illume can send out alerts that go out before, during, and after an emergency to communicate critical information to everyone.
7. Provide temporary housing for onsite maintenance personnel.
If you need your property manager and maintenance staff to perform emergency response work 24/7, offer them the use of a model apartment home or make other temporary housing arrangements until the emergency passes.
8. Encourage residents to stock up on water and non-perishables.
Some natural disasters lead to local water supplies becoming inaccessible or polluted. Residents also might not have electricity for several days, making refrigerated food likely to spoil. The Centers for Disease Control and Prevention recommends having a three-day supply of food and water on hand, including a gallon of water per person and pet — more for pregnant women. We can prepare and distribute suggested guidelines for residents to supplement your emergency preparedness efforts.
9. Invest in a backup generator.
If your building loses electricity, having a backup generator (or several for larger residential properties) that can provide emergency power for residents could be a lifesaving investment. Generators can power elevators in multi-story properties, fire-alarm systems, and illuminate buildings to help maintenance staff and first responders evacuate residents in an emergency.
10. Remain calm.
Above all else, providing a sense of calm in a storm of chaos will keep residents from panicking and gains their trust. Demonstrating emergency preparedness could even influence their decisions when it comes time to renew a lease.
And that would be a definite win-win!
Need help preparing an emergency preparedness plan for your investment property? Contact your illume Property Management manager today at 503-241-0676 or manage@illumepm.com to get started on one.