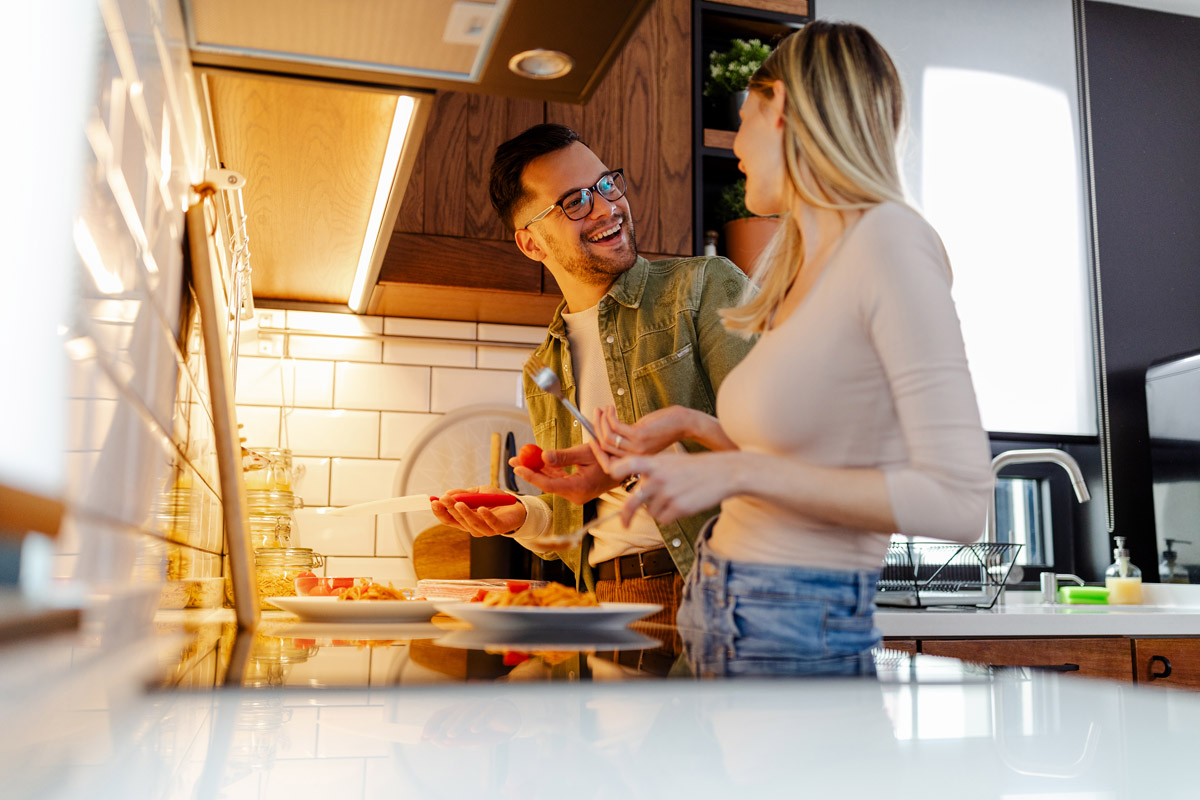 One of the most uttered phrases from those envisioning a kitchen remodel is, "We want a space that allows us to entertain guests!". Especially after a year of isolation, the desire to have friends and family over for dinner parties is stronger than ever.
Most of us have been in the unfavorable position of squeezing guests into the kitchen area to socialize while the food is being prepped, or even shouting to them from the stove because the living room is the only space for them to gather.
Food brings people together – physically and at heart. If you want your home to be the hub of social interaction, consider the following aspects when dreaming up your ideal kitchen renovation.
Open Concept
Nothing is more unwelcoming than a maze of small rooms sectioned off by obtrusive walls. Imagine your guests being able to freely wander from the living room, through the dining area, and to the kitchen. Explore different ways to designate each space while catering to a natural flow. With an open concept floorplan, nobody will feel left out.
Island
Adding a kitchen island (or two) is one of the most efficient ways to increase your kitchen's ease of gathering – plus, it adds a generous amount of storage space! An island is the focal point of a kitchen, and therefore people are drawn to it. Add a raised counter and some stylish bar stools for extra comfort while drinking, snacking, and chatting.
Appliances
If you tend to entertain large groups of people, thinking in doubles might be necessary when choosing kitchen appliances. Having two ovens takes away the stress of planning out when to cook what so that it all finishes at relatively the same time – warming drawers are handy for when that inevitably doesn't work out. A double door refrigerator with a pull-out freezer drawer gives you the most space for storing ingredients and prepped dishes. Don't get us started on double dishwashers!
Specialty beverage storage systems, such as wine coolers, built-in kegerators, or mini-fridges dedicated to bottled drinks make it convenient for guests to enjoy a high-quality refreshment. If space allows, building an entire wet bar area is best for separating workstations.
Dining Area
In addition to casual seating at the kitchen island, it's important to have a dining area with a large table and adequate seating for your parties. People will treat it as an additional casual space while socializing, and it provides a more formal option if you like to everyone sit together for the main meal.
Outdoor Space
For ease of movement, the kitchen and dining area should have immediate access to an outdoor patio. When the weather allows, having double doors that can be propped open makes it easy to expand an already enjoyable space. This also allows the cook a quick path to the grill and your guests a fresh air option.
Technology
Depending on the nature of your get-togethers, a wall-mounted flat-screen television may be what takes your gatherings to the next level. Whether it's a party for the big game or the Oscars, this addition will bring your kitchen's entertainment value up a notch.
Built-in speakers and a voice-activated music system are must-haves for any contemporary kitchen and absolutely crucial for a dinner party worth talking about. If you want to increase your hospitality score even more, add charging stations so that your guests don't have to worry about a draining battery – this also keeps them away from their devices and focused on each other!
We all know the kitchen is the heart of the home, and illume Property Partners wants to help you optimize it for creating memories with your loved ones!